Storm-hit Dawlish rail line: Sea wall to be raised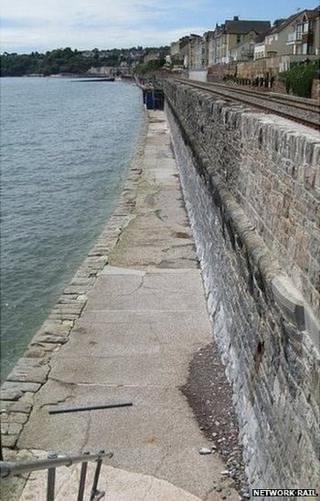 A sea wall which was breached in winter storms will be raised to protect the main railway line in the south-west of England, Network Rail has confirmed.
The plans to raise the section at Dawlish, Devon have been criticised by some residents concerned about privacy.
A walkway on top of the wall is used by thousands of people every year.
In the 1840s, Isambard Kingdom Brunel, who built the rail, lost the same battle with a landowner.
The landowner insisted the wall should be lowered so he did not lose his privacy with walkers looking in.
Network Rail said the section of wall would be raised to the same height as the rest of the defence.
A spokesman said, subject to planning permission being granted, it hoped to start work in August with the project expected to be completed by the end of 2014.
He said two public meetings had been held and the organisation planned to keep residents updated throughout.
The line reopened in April after it was severely damaged by storms in February.
A 300-strong Network Rail team rebuilt the track at a cost of £35m.