Exeter crowdfunding firm Crowdcube doubles workforce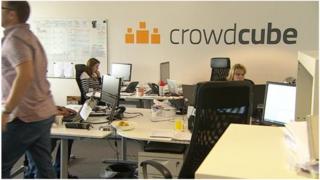 An Exeter crowdfunding firm is to double its workforce to 50 and open offices in London and Scotland.
Crowdcube, which launched in 2011, is getting £3.8m from venture investors Balderton Capital to finance the expansion.
Crowdfunding enables businesses to get investment without going to a bank by appealing to small investors instead.
Crowdcube says it has helped raise more than £30m for more than 130 businesses via 80,000 investors.
'Stronger position'
Co-founder Darren Westlake said he was "delighted" at the "vote of confidence" from Balderton.
"We've built a pioneering and award-winning service over the last few years," he said.
"This investment, alongside the crowd, puts us in an even stronger position to provide essential growth finance for businesses and inspire a new generation of investors."
Tim Bunting of Balderton said: "We love the way Crowdcube is disrupting and democratising investment into businesses seeking growth finance."