Lives at risk due to poor post natal depression care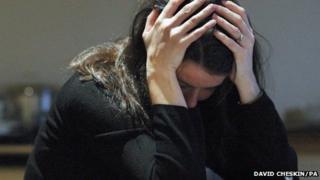 Lives are being put at risk by "extremely poor access to post natal depression services" in Devon and Cornwall, a report has found.
The independent report, commissioned by the Devon Partnership NHS Trust, warns there are no mother and baby units (MBU) in the region, with the nearest service a four-bed unit in Bristol.
The average stay in an MBU is 56 days.
NHS England said it was working to ensure patients could access it "quickly and easily".
'Just desperate'
The report said: "Many women refuse to leave their home area especially when they have other children.
"As a result of this, some women are being managed in the community when this is unsafe".
It said to meet current demand for "postpartum psychosis alone (severe mental illness after childbirth), 17 bed spaces were required for the entire south west".
The report calls for a 10-bed unit for women and babies in Cornwall, Devon and Somerset.
When the Bristol MBU is full, patients go to units in Bournemouth, Winchester or London.
Jo Chesney from Exeter, who suffered extreme postnatal depression after the birth of baby Freya, said: "I was just desperate I couldn't cope. The baby would cry and I would panic."
She said she tried to take her own life, and spent five months in a Bournemouth MBU, 90 miles (145km) from her home.
A spokesman for NHS England said: "Perinatal inpatient services for the Devon and Cornwall area are commissioned by NHS England and provided by an NHS trust in Bristol at a four-bed inpatient unit
"We are actively working with Trust to ensure all patients who need this type of care can access it quickly and easily."