Stay of execution for Devon eco-home pair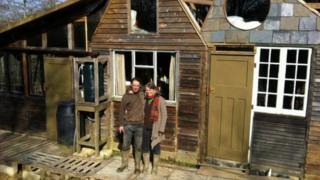 A couple ordered to take down a wooden eco-house built without planning permission have been given a stay of execution.
Jules Smith, 54, and Matt Lepley, 34, have been told their Devon home "sits very comfortably" with planning guidance on sustainable developments.
Torridge District Council said the building was an "unauthorised development in a rural location".
But a planning inspector granted temporary planning permission.
Gareth Symons said in granting the permission for three years the couple must prove they have a viable agricultural business to be allowed to stay.
The couple, originally from Wood Green, north London, bought a 20-acre field and built their house from recycled materials, including pallets and railway sleepers.
The house has two main rooms downstairs and a bedroom upstairs and took five years and £20,000 to build.
The couple grow and sell vegetables from the land, which they farm according to the principles of permaculture, an organic and low environmental impact method of farming.
But after a complaint from a neighbour, the council took enforcement action, citing the fear of "uncontrolled development in the middle of the countryside".
Mr Symons said there was support in principle for the "ethos of the enterprise".
He said: "20 acres is probably sufficient to make a small scale enterprise viable, but it really hinges on whether the appellants can now find the focus to drive it forward."
Kate Little, heading of Torridge's strategic development and planning, said: "The council are currently reviewing the planning inspectorates decision with a view to better understanding the basis on which permission has been granted.
"Since the decision has only just been handed down the council will need time to review this."
The couple were unavailable for immediate comment.