Devon footballer jailed over referee attack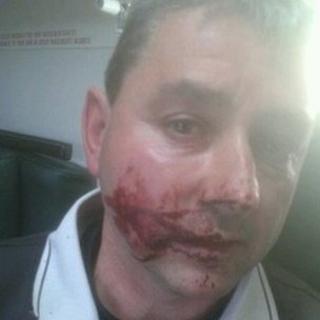 An amateur footballer has been jailed for 16 months for attacking a referee during a non-league match.
Grant Hardwick, 26, of Totnes Road, Paignton, admitted the attack at a game between his team Torre FC and home side Ashburton FC Reserves in Devon.
Referee Donald Distin was hit in the face and taken to Torbay Hospital with facial injuries after the attack in May.
Exeter Crown Court Recorder Paul Dunkels called it a "cowardly blow".
The referee had awarded Hardwick a free kick but he was unhappy about earlier decisions and became so abusive he was shown first a yellow and then a red card.
'Never acceptable'
The attack which followed left Mr Distin with such serious bruising to his face he had to take time off work as an electrician and retained firefighter.
Mr Distin said after the case: "Luckily I did not fracture any bones. But the bruises were so bad that I frightened my grandson and I couldn't see him for six months.
"It had a really bad affect on my family and relationships."
Torre FC withdrew from the South Devon Football League following the abandonment of the match.
Dermot Collins, the Football Association's respect manager, said footballers who attacked referees faced being banned for life.
"We have more referees now and we have better ways to report misconduct but there are still large numbers of people out there who feel they have the right to attack referees and that is never acceptable," he said.
Assaults on referees had risen from 187 to 191 over the last two years, he added.