Devon A&E rise 'may be linked to NHS 111'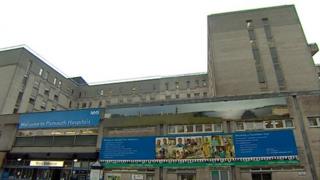 A rise in people using accident and emergency (A&E) departments could be linked to the rollout of the NHS non-emergency helpline, health bosses have said.
Plymouth's Derriford Hospital has seen an "unprecedented rise" in 12 months and has had to cancel operations.
The Royal Devon (RD&E) and Royal Cornwall hospitals also saw a rise.
South Western Ambulance Service, which runs the NHS 111 service, said it used "appropriate pathways" for patients.
"If the emergency department is the appropriate place for them, then that is where they will be taken," it said.
It added that calls had increased "in line with the NHS around the country" and there had been further pressure from an influx of holidaymakers.
"In May 2014, 51.5% of all our patients were treated via other care pathways and not conveyed to emergency departments," it said.
It worked with the NHS "to ensure... patients get the right care, in the right place, at the right time".
The 111 helpline, which replaced NHS Direct, began in Devon in September 2013.
Kevin Baber, chief operating officer at Derriford, said: "About 270-280 people are attending every day, which is somewhere between 30 and 40 extra people each day.
"Many are attending with minor illnesses and injuries.
"I think it's difficult to say it's down to one thing, but we think there is possibly a link to the new NHS 111 number."
However, he said more work was needed to confirm the link.
In June, the A&E department saw its highest ever daily attendance with 337 people.
The RD&E said on average an additional 30 people a day had attended its A&E department between April and June 2014 compared to the same period in 2013.
Matthew Bryant, divisional director of medical services, said it was investigating whether there was a link between the 111 service and the rise.
"We are working closely with the 111 service and partners to learn any lessons and make appropriate improvements as soon as possible so that we can help avoid sustained increases in attendances as we experienced between April and June."
The Royal Cornwall Hospital saw A&E attendances rise from 6,438 in June 2013 to 7,002 in June 2014.
Dr Mike Richards, from the Devon Local Medical Committee, said the NHS 111 service "has been designed to be very safe for patients and to err on the side of caution".
"A consequence of that could well be that a higher number of patients maybe being referred to A&E.
"It's not a criticism, but that is what is inherently within a very safe system."