Former Senator Stuart Syvret ordered to pay £68,000 legal costs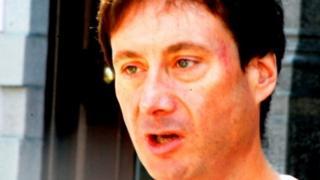 Former senator Stuart Syvret has been ordered to pay the States Treasurer legal costs of £68,000.
He said the ruling was likely to bankrupt him and claimed it was an attempt to prevent him standing in October's general election.
Bankrupt individuals cannot hold political office in the States of Jersey Assembly.
The costs relate to Syvret's 2011 conviction for data protection offences and a failed attempt to sue the States.
At a civil hearing in the Royal Court on Friday, Syvret accused the judge, Howard Page QC, of being an admirer of the Bailiff, Sir Michael Birt who is the head of Jersey's judiciary and presiding officer of the States Assembly.
He claimed this represented a conflict of interest and that Judge Page should disqualify himself from proceedings.
Bankrupted
Syvret also accused the Judicial Greffe, Paul Matthew, of failing to disclose a witness during the original criminal case against him.
But Judge Page rejected Syvret's application for disqualification or recusal, and said the Greffe's work was "purely administrative".
"I'm not prepared to allow you to use this court as a platform," said Judge Page.
Outside the court, Syvret likened himself to Trevor and Shona Pitman, two deputies who were bankrupted in 2013.
They lost a defamation case against the Jersey Evening Post, prompting by-elections.
"It's interesting that these debts appeared to have been forgotten about until the day after the two deputorial seats were declared vacant when the Pitmans were bankrupted out of the States," he said.
"Suddenly after several years these debts were resurrected and two enforcement officers came pounding at my door telling me to turn up at court and that was the day after the two seats were declared vacant.
"That effectively stopped me and intimidated me from being a candidate," said Syvret.