Man admits £300,000 Help for Heroes fraud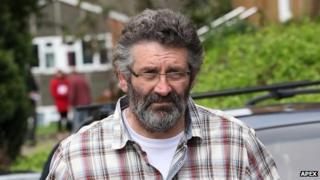 A man has admitted stealing £300,000 intended for the armed forces charity Help for Heroes.
Christopher Copeland, 51, from Devon, gathered teams of fundraisers to collect donations from the public across England and Wales.
He admitted one charge of fraud and another of concealing criminally obtained property.
Judge Phillip Wassall at Exeter Crown Court said Copeland faced a lengthy prison sentence.
'Despicable crime'
Copeland was remanded on bail for sentencing on 15 September.
He said after the case: "It was unintentional but it happened. There you go.
"I tried to do something that was really good and I messed it up. I am feeling very humble. I'm very sorry."
Asked if he would be paying back the money, he said: "I would really love to make amends.
"I am really sorry and I will do everything I can."
The teams would use Copeland's fleet of ex-military vehicles, in Help for Heroes livery, and encourage shoppers at large stores to put money into charity buckets.
He told his helpers he was passing on the money to Help for Heroes but instead put it straight into his own bank account.
He was caught when one of the volunteers became suspicious and tipped off Devon and Cornwall Police. The force discovered almost nothing had been paid to the charity.
Judge Wassall said: "It is difficult to imagine a fraud with greater aggravating features."
David Sapiecha, prosecuting, said Copeland would now face proceedings under the Proceeds of Crime Act to seize his assets and deprive him of any benefit from his fraud.
Jo Brookes of Help for Heroes, which raises money for injured servicemen and women, said after the case: "We are appalled that Chris Copeland exploited the goodwill of so many people towards our wounded men and women in such a calculated and devious way.
"Help for Heroes is grateful to our local fundraiser who first spotted what Copeland was doing and to the police and the courts who have made sure he didn't get away with it."
Det Ch Insp Mike Robinson, of Devon and Cornwall Police, said the public would find the case "galling".
"I think the motivation was greed," he said.
"He has seen an opportunity where he can pull in vast amounts of money over a short period of time."