Damien Hirst homes plan to be debated in Ilfracombe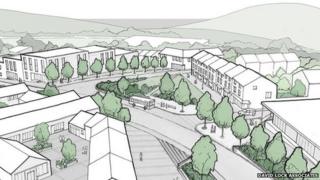 Plans to build 750 homes on land owned by artist Damien Hirst in north Devon are to be considered by councillors.
The proposed development, near Ilfracombe, also includes shops, business units, a primary school and a health centre.
The planning committee will visit the site later before convening in a nearby theatre for a public meeting.
Last year Hirst donated a giant bronze statue of a pregnant woman to the town.
Local councillor Mike Edmunds is behind the plans.
He said: "We don't want to see off-the-cuff housing up here, we want something we can be proud of and I know Damien wants something he can be proud of.
"It will also increase the amount of money that can be spent in the town and that's important."