Councillors approve 750 homes on artist Damien Hirst's land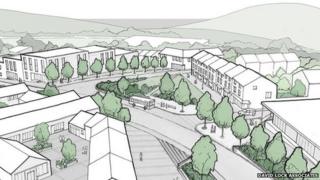 Councillors have approved plans for 750 homes to be built in north Devon on land part-owned by artist Damien Hirst.
Planners said the development would bring construction jobs to Ilfracombe and boost the regeneration of the town.
But critics claim the development is too large for the area and will adversely affect wildlife.
Developers say the project would take between 10 and 15 years to complete, and 10% of homes built would be socially affordable.
Resident David Watts, whose home borders the proposed site, said after Wednesday's meeting: "They're proposing 750 houses and they're making a small area for employment but there is absolutely no guarantee there will be any employers coming in at all.
"This is an unemployment black spot."
Independent councillor Mike Edmunds, from North Devon District Council, told the BBC: "This is actually going to increase the population by about 20% and therefore it is going to make the town far more viable, especially the shops and the high street, which is important."