Plymouth city centre hawk to ward off gulls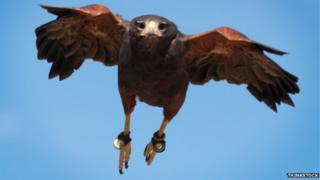 A hawk will be flying above the buildings in Plymouth city centre to ward off gulls targeting people's food.
A harris hawk, named Izzy, has been trained to fly, but not attack, gulls to scare them away.
Plymouth City Council and the Plymouth City Centre Company will start the hawk patrol as they continue a campaign asking people not to feed the gulls.
The patrol will happen every Tuesday from now until the end of September.
Councillor Brian Vincent said: "By removing the food source, we are making it harder for them and with a hawk dropping in; they will get the message that they are not welcome."
Stefan Krause, city centre manager, added: "There are no quick fixes and there is no single solution, but using a range of measures, we hope that the gulls will begin to change their behaviour."
Councillor Vincent said harris hawks are ideal for this particular job as they are intelligent and responsive to their handlers and tend to fly only short distances.