Residents row over private day centre for dementia sufferers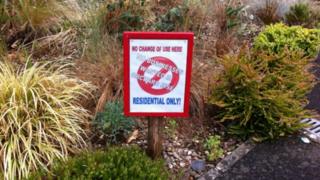 A row has broken out between neighbours over a private day centre for dementia sufferers which opened in April.
Some householders in Bideford have put up banners objecting to the centre and said the owners do not have planning permission, while others support the cause.
The Kingsley Day Centre in Orchard Rise was originally a domestic bungalow.
The planning decision on the change of property use is not due until September.
Torridge Independent Councillor Chris Leather said: "If the applicant had included the residents from the start and said what they were proposing to do, and put leaflets through the door, I doubt all this ill-feeling would have been generated."
Councillor Philip Collins, leader of Torridge District Council said: "The national guidelines are that you require planning permission to start up businesses, and it is very unusual to have businesses in local areas."
Neighbour Peter Walker, who is against the centre, said: "They're on about closing a purpose built centre. This is in a cul-de-sac with very little parking.
"If we let one business in, well have other businesses and this will end up being like everywhere else."
In support of the centre, neighbour Sally Friendship said: "The residents here seem to think that it shouldn't be a day centre but it's quiet, there's nothing going on.
"It's a fantastic facility for people who can come to a non-clinical environment just to give their nearest and dearest just a few hours of respite. I cannot see what people have against it."
Kingsley Day Care Centre in Bideford is privately funded by Darren Sparrey and Jennifer Stewart.
Ms Stewart declined to comment.