D-Day hero Edmund 'Tommy' Purser from Devon dies aged 95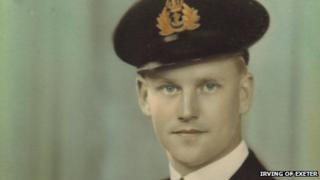 Edmund 'Tommy' Purser from Exeter who took the lead landing craft ashore at Sword beach on D-Day, has died aged 95.
Mr Purser was mentioned in dispatches for getting his boat home despite it being badly damaged.
Paying tribute, his family said his life was defined by his wartime services in the Royal Navy.
Mr Purser died earlier this month at Bronte Residential Care Home in Exeter, where staff described him as "a gentleman through and through".
Mr Purser joined HMS Raleigh near Plymouth in late 1940 for training before joining a destroyer for convoy duties in the North Atlantic.
After being commissioned in May 1942 he joined a landing craft capable of taking infantry.
He prepared for the Sicily landings before resuming escort duties in the Mediterranean.
He returned in October 1943 and began training for the D Day landings.
Having survived the invasion, Mr Purser went on to help relieve the Channel Islands from Nazi occupation.
During this time he married his wife of 69 years Pam, who was a Wren.
Cordelia Murphy, the manager of the residential care home, said: "He was a gentleman through and through who often spoke about his wartime exploits.
"He would fondly remember times when he was an accountant. He was so kind to everyone - staff and residents. He will be missed."
Mrs Murphy said Mrs Purser, who was also a resident, was "devastated by the death".
Topsham Sailing Club, near Exeter, where Mr Purser was a member, has lowered its flag to half mast in his honour.