Torbay Council plans to remove failed street lights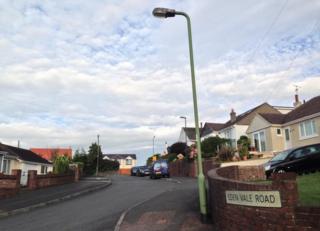 Broken street lights could be removed instead of being replaced in a bid to save a council thousands of pounds.
Torbay Council claims £60,000 could be saved in 2015-16 if the plans are approved but said they would not be removed from main roads and at junctions.
However, some residents fear the plans will increase anti-social behaviour.
The council said it was one of several proposals for the 2015-16 budget and was subject to consultation.
'Tyres slashed'
Alan Roberts, who runs an antiques shop in Winner Street, Paignton, which could be affected, said it would be "quite frightening" not having street lights on some of the small roads.
Gil McGonigle, who lives in Eden Vale Road, Paignton, said: "I'm sure they can make cuts elsewhere, the lights should stay.
"We've had tyres slashed and wing mirrors smashed... the lights must stay on."
Kevin Clinton, from The Royal Society for the Prevention of Accidents, said: "Lots of councils are switching off their lights in certain areas but this is the first time we've heard this will happen just because a light fails.
"We would strongly suggest whenever a street light fails the council makes a risk assessment of whether or not it should be replaced."
Torbay Council said it was "exploring the impact" of removing the posts.
A Torbay Council spokesperson said: "We will continue to replace bulbs in street lights as and when they fail but we are proposing to remove and not replace lighting columns which structurally fail, unless they light main roads or junctions.
"Failed columns need to be removed as they are deemed a safety risk as they could fall down in high winds."
The authority said it has saved more than £30m in the past three financial years.
It has estimated more than £14m has to be saved in 2015-16, although most of the cuts have been identified and the proposals are part of the remaining £3.8m of savings which need to be found.