Devon County Council ends funding for hot meals service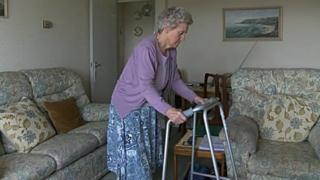 A service providing hot meals to the elderly is set to end after subsidies from a council were stopped.
Devon County Council subsidised Apetito for more than a year but then stopped the funding to save £500,000.
Devon County Council said a drop in users, "escalating costs" and government funding cuts resulted in it not renewing the contract.
Apetito said reduced numbers and increased costs meant the service was no longer financially viable.
'Appalling' treatment
Pauline Young, who is from South Molton and has Alzheimer's disease and poor mobility, said she has been relying on the service for more than 12 months.
The 82-year-old said having the meals delivered was "important".
"It's lovely to know it's coming in and that I'm having a hot meal once a day," she added.
Her son, Nigel Young, said the move was "appalling" and that there was no other hot meal provider in north Devon.
"My mother cannot use a microwave or cooker in her current state, so what is she supposed to do? Survive on sandwiches and salads during the winter?
"I am worried sick about how she will get a hot meal at home after the middle of next month."
Apetito said it would end the service in September and its depot in Devon would close.
Chief executive Paul Freeston said: "Due to reduced numbers and increased operational costs, it is with deep regret that we have had to acknowledge that this service is no longer financially viable."
The company added another firm will operate a frozen home delivery service in the area.
But, Mr Young said the frozen meal option "is out of the question" because of her condition.
In a statement the council said there was "no obligation" to provide a meals service but said there were alternatives such as lunch clubs, day centres or ready meal delivery.