Kate Bushell 1997 murder case in doubt after forensic errors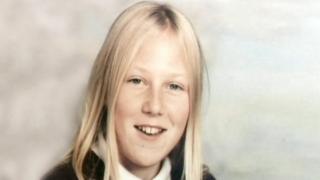 The killer of a teenager 17 years ago may escape justice after evidence was contaminated by a forensic technician's clothes, the BBC can reveal.
Kate Bushell, 14, was murdered near her home in Exeter, Devon, in 1997 and the contamination happened during a review of the case two years later.
Purple fibres from the technician were found on evidence from Kate and on a suspect later eliminated from the case.
Police said a prosecution was possible as some evidence was unaffected.
'Astonishment and anger'
Following the discovery of the contamination new Devon and Cornwall detectives were assembled to investigate the case, but after three months of work, concluded the suspect they had could not be the killer.
When other exhibits from the case were re-examined, more purple fibres were found.
The Forensic Science Service (FSS) - which disbanded in 2012 - checked its work and discovered the technician had been wearing a top that deposited the fibres on different exhibits.
Members of the investigation team told BBC News of their "hopes being raised for a breakthrough", and their "astonishment and anger" when the new lead turned out to be a basic error in forensics.
Chris Boarland, the former head of the Criminal Investigation Department at Devon and Cornwall Police, said: "The defence [of any future case] will quite rightly make an issue of this.
"They are understandably going to call into question the whole forensic procedure and they will want to cast doubt on any other forensic evidence."
The BBC has also learned the FSS repaid Devon and Cornwall Police £100,000 over the errors.
'Brutal murder'
Acknowledging the "really basic error", major crime team head Det Supt Paul Burgan said: "The case remains open and we hope advances in forensics will one day allow us to solve it."
In a statement, Kate's family said: "We realise that we may never see someone brought to justice over her brutal murder.
"The support of those close to us has allowed our family to rebuild our shattered lives and look fondly upon the precious years that we were lucky enough to share with Kate."
The Home Office did not respond to the BBC about the contamination, but said: "The Forensic Science Service was disbanded in 2012.
"The work was transferred to alternative forensic service providers who are accredited to required standards.
"Police also have some in-house facilities. The Forensic Science Regulator monitors quality standards in the industry."