Fire-leaked fuel removed from River Culm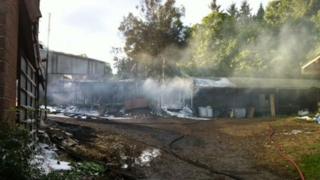 Fuel which entered a river during a large barn fire in Devon has been removed from the water course, the Environment Agency has said.
About 30 firefighters battled the blaze on a farm at Clayhidon and animals were evacuated from the barns.
Fire crews surveyed the River Culm and used booms to trap the fuel, which came from a ruptured tank.
The Environment Agency said it "did not anticipate any long-term impacts" and no fish had been reported dead.
The agency removed the trapped fuel and said the "environmental impact seems minimal".
It added the remaining fuel would probably evaporate or break-up.
Devon and Somerset Fire and Rescue Service said it believed the cause of the fire, which was reported at about 03:55 GMT, was accidental.