Plymouth University chief criticises group for 'adding to crisis perception'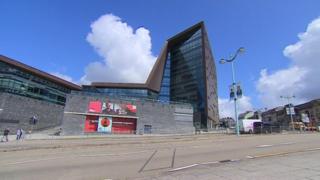 The acting head of a university has criticised businesses for "adding to a perception of crisis" about a dispute.
Plymouth University has suspended chief Wendy Purcell and is studying claims of harassment against governors' chairman William Taylor, who denies claims.
In an email seen by the BBC, acting vice-chancellor David Coslett said what was happening was "not the business" of the Plymouth Area Business Council.
The council said debate was stifled. Mr Coslett said he stood by his comments.
'Partial knowledge'
Vice-chancellor Prof Wendy Purcell, who is also the university's chief executive, was suspended from the institution in June.
The chairman of governors, retired judge William Taylor, stepped aside while allegations of sexual harassment are investigated. He has denied the claims.
Criticisms from the Plymouth Area Business Council (PABC) included executive member Alan Qualtrough warning that reputational damage to the city was becoming "irreparable" and the university's standing could suffer permanent damage.
In his email to the PABC chairman, Charles Howeson, Mr Coslett said: "What is happening at the university is NOT the business of PABC".
He said that what the council could do "is refuse to comment on university matters it has very partial knowledge of and instead concentrate on the excellent work we continue to progress with the business community".
He went on that he was "astonished and dismayed that the PABC leadership, some weeks ago, chose to comment to the media on university matters in such an unhelpful way".
He said: "I cannot in all honesty say PABC leadership comments have adopted the supportive stance I would have expected. Indeed they have added to a perception of crisis rather than served to dampen ill-informed speculation."
PABC vice-chairman Tim Jones said the business community was experiencing "increasing frustration and anger about this very hostile approach".
He said: "The university must conduct its own business in its own way.
"But denying the ability to debate and discuss these issues and, crucially, overcome these problems - that is difficult for the business community to understand."
'Ill-informed commentary'
The university said the email was private and not intended for publication.
But it added Mr Coslett "stands by everything stated; particularly that ill-informed commentary based on partial knowledge is not in the best interest of the university, the city or the individuals involved, and that the confidentiality of the process should be respected".
The university has to conclude its own investigation into Wendy Purcell and make a decision about her future.
Separately, a London barrister has to conclude his investigation into the allegations against Judge Taylor.
The university has also agreed to commission its own external review on the way it governs itself.