Hundreds gather for Totnes Pride Festival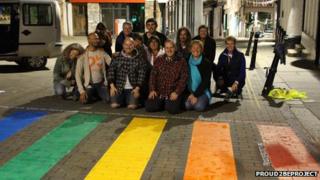 A rainbow-coloured level crossing has appeared in a Devon town to mark the start of the Totnes Pride Festival.
Organisers say the lesbian, gay, bisexual and transgender (LGBT) event is bigger than last year with community art projects, talks and workshops.
Guest speakers at a Question Time-style discussion will include the Human Rights Campaigner and Proud2Be patron Peter Tatchell.
The event concludes with a Totnes Pride after party with live music and DJ's.
Jon Price, from Proud2Be, which organises the event, said: "Visibility and isolation is a big issue in rural areas.
"Because there's not that many LGBT clubs or cafes you can think there's no LGBT people in Devon, there's loads of them. We just haven't come together that much before."
Mr Price said the event was also organised to bring everyone in the area together for "education and awareness".