Plymouth MP calls for frigate to be named after city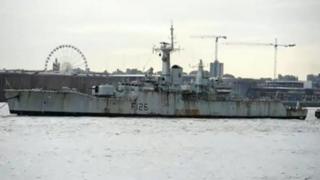 One of the navy's new Type 26 Frigates should be named after the city of Plymouth, a local MP has said.
Oliver Colvile, the Conservative MP for Plymouth Sutton and Devonport, has launched a campaign to have one of the frigates called HMS Plymouth.
The original HMS Plymouth is due to be scrapped in Turkey soon, despite attempts to save her.
Mr Colvile said naming one of the frigates after Plymouth would "secure our city's Naval heritage and legacy".
The MP said that earlier in the summer he had "secured [government] assurance that half of the new Type-26s would be base-ported at Devonport".
The other 13 will be based at Portsmouth.
He said: "By pushing for one of the new Type 26 Frigates to be named HMS Plymouth, I don't want the history of the original HMS Plymouth, and all those who served on her, to be forgotten.
"I want to commemorate it and continue to add to the history of HMS Plymouth."
The Type 26 will replace the 13 Type 23 frigates.
The ship will be 148 metres long with a displacement of 5,400 tonnes.
The Royal Navy describes the Type 26 as "a 21st Century warship that will replace the Type 23 frigate as the workhorse of the Fleet, undertaking the Royal Navy's three core roles - war fighting, maritime security and international engagement - on the world stage."
It was onboard the original HMS Plymouth where the Argentineans surrendered following their invasion of South Georgia in the 1982 war.
It was decommissioned in 1988.
HMS Plymouth was originally saved from being scrapped in the early-1990s, when it was taken to Merseyside to form part of a floating exhibition at Birkenhead docks.
Campaigners had raised money to pursue legal action in a bid to prevent the ship leaving.
But Peel Ports, which owns Vittoria Dock in Birkenhead, where the ship was berthed, said it had "no practical choice but to dispose of her responsibly".