Lydford village remembers World War One fallen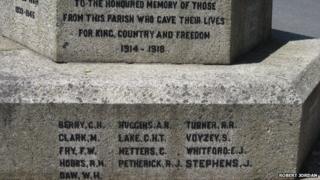 A service has been held in the Dartmoor village of Lydford to commemorate 13 local men who lost their lives during World War One.
Preparations for the event included tracking down four descendants of the fallen.
A commemoration at the village's war memorial was attended by veterans, civic dignitaries and descendants.
Author and broadcaster Clive Aslet, who has written a book about the Lydford's monument, attended the event.
One of the descendants, Graham Huggins, is the great nephew of Sgt Archie Huggins, who served with the North Devon Hussars.
He said: "Archie was one of 13 children.
"Just after he got married he was mobilised on to HMS troop ship Olympic. He headed for the Dardanelles.
"He was there a matter of two weeks and became ill with dysentery and died within the week on 27 October 1915 and the age of 29-years-old."
Robert Jordan, the regional rep for the ABF, the soldiers charity that has organised the event, said: "We've had quite a bit of help from history societies and we have tracked down a number of descendants.
"Some are quite elderly and can't travel to the service but four will be there."
As part of the commemoration Mr Aslet, whose book War Memorial tells the stories of the lost sons of Lydford, was invited to share his research.