Dawlish mud and straw house in collapse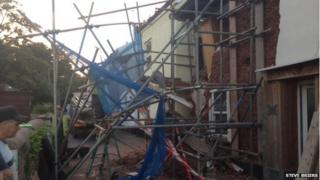 A house built of compacted mud and straw has partially collapsed in a Devon seaside town.
No-one was in the traditional cob-built terraced house in Brook Street, Dawlish when it collapsed.
A number of nearby residents have been evacuated while engineers from Teignbridge Council assess the safety of the house.
The house was undergoing renovation work when it collapsed at about 16:00 BST.
Neighbour Jason Sandland said: "The scaffolding twisted and collapsed on the street but luckily there was no-one on the street, which is usually quite busy."
Thousands of cob houses and farm buildings survive in the South West, some dating from the 14th Century.