Tour of Britain: Devon hosts fifth stage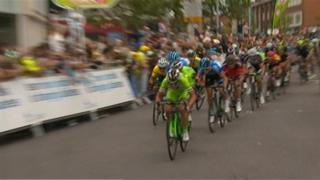 The 11th Tour of Britain cycle race has passed through Devon.
Some 120 competitors, including the sport's biggest names, jostled for position on a 110-mile route from Exmouth to Exeter.
The riders left Exmouth at 11:00 BST and took just over four hours to complete the course.
Austria's Matthias Brandle won the stage with an eight second lead and the race now has three stages to go.
Riders taking part included household names Sir Bradley Wiggins and Mark Cavendish, who chose to compete despite still recovering from his Tour de France-ending crash in Harrogate.
Stuart Hughes, of Devon County Council, said the event was good for tourism.
"It's been coming to Devon for eight years and over those years we've seen more and more people turn out," he said.
"It's beamed around the world on TV and that fulfils our aim of becoming a destination for cycle tourism. It brings a lot of money in."
In the eight years the tour has passed through Devon, officials estimate it has generated £27m of visitor spending, although it will not visit in 2015.
The Tour of Britain runs until 14 September. Visit BBC Sport for the latest updates.