Dame Hannah Rogers School closure 'causing suffering'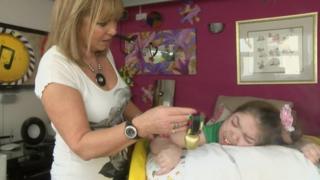 Parents say their children are suffering because of the continued suspension of children's services at a specialist unit near Plymouth.
The Dame Hannah Rogers School in Ivybridge has been closed for six weeks because of a "safeguarding issue".
On Monday the trust which runs the school said it hoped to provide parents with clarity later in the week.
Around 40 families use "Hannah's", a specialist school for profoundly disabled children and young people.
Susan Darke said her son Keiran, who has cerebral palsy, is being denied essential services.
"The children that go there and the adults are missing out on what they need," she said.
"They need physio and speech therapy, they need hydro[therapy], they need all these things and they're not getting it.
"It's very, very frustrating and it makes me angry."
In August, education regulator Ofsted closed the school after the trust reported a potential safeguarding issue to the police, resulting in subsequent, "multi-agency investigations".
On Monday the trust acknowledged the upset caused and said it hoped to have resolved the issue soon.
Kay O'Shaughnessy said her 16-year-old daughter Amy needs round-the-clock care.
"She's suffering hugely," she said.
"She needs constant stimulation which, when you're trying to do it yourself 24 hours a day, is very, very difficult.
"She's missing out on her social life, her therapies and her legal right to be educated."