Carmel Coaches firm in Devon 'a shambles', tribunal hears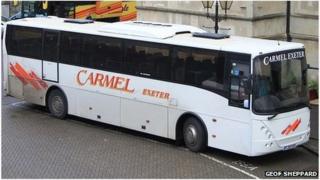 A judge has described the maintenance systems at Devon coach firm Carmel Coaches as "a shambles".
The comments were made at an appeal hearing against a decision in June to strip the company of its operating licence for "woeful" safety failures.
The Upper Tribunal heard Carmel Coaches' MOT failure rate was double the 18% national average.
Tony Hazell who runs Carmel Coaches admitted the company had expanded too fast but said maintenance had improved.
The hearing on Tuesday was told a brake defect was reported eight times before something was done, while a jammed emergency exit was not fixed when it was first flagged up.
Judge Jacqueline Beech, who chaired the tribunal, asked: "How did we go from a compliant operator to what can be politely described as a shambles?"
One of the firm's vehicles was involved in a coach crash at Looe in Cornwall in May where two people died although no defects were found.
The traffic commissioner who revoked the licence gathered her evidence before the crash and said her decision did not reflect the incident.
'Learnt lessons'
Speaking after the hearing, Mr Hazell said: "Two large firms went out of business suddenly in Exeter around that time which caused us a considerable increase in business.
"It was a bit difficult to keep control at the same time with a tremendous increase and growth in our work."
The company, based in Okehampton and Exeter, said it has learned lessons and put in a new maintenance regime including better training and employing more experts.
A judgement on the appeal could take up to four weeks.