Harbour structure defects cause flood fears in Torbay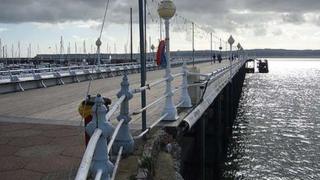 Major structural defects have been found in two piers in Torbay, a report by the local harbour authority says.
The Tor Bay Harbour Authority said Haldon and Princess Piers acted as sea defences and 200 homes could be at risk of flooding if they failed.
The authority has urged Torbay Council to come up with £4.6m so repairs can be started as soon as possible.
The Environment Agency said funding would be available, but not immediately.
The report said if the piers were not repaired they could fail in five to 10 years.
It said the recently undertaken assessment had indicated "the structures are in poor condition in many places".
The report called for money to be made available "as a matter of urgency" to allow repair work to proceed on both piers.
Alan Burrows, the Environment Agency's area manager, said funding was in its six-year plan, but right at the end of the timescale and "it has to compete with a whole series of other flood-risk schemes around the county".
Gordon Oliver, the Conservative elected Mayor of Torbay, said: "It's important that we should address this so we don't have a major problem later on which we can't deal with."
The report also recommended officers looked into other sources of funding, in addition to the Environment Agency, to help pay for the repairs.
The council's harbour committee will discuss the findings later.