Woman's legal challenge against Devon County Council care home closures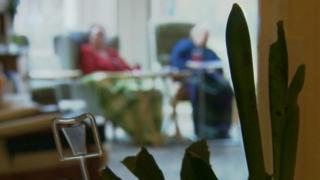 The daughter of a woman with dementia is taking Devon County Council to court over its decision to close 20 council-run care homes.
Maureen Beauchamp has launched a judicial review on behalf of her 94-year-old mother, Queenie, who is at the Oakwell home in Bickington.
Ms Beauchamp's challenge is being funded by Legal Aid and the council has had to put closure plans on hold.
The council said it was appealing against the challenge.
'Temporary suspension'
In June, the council announced plans to shut the homes in a bid to slash social care spending by £10.7m.
More than 750 jobs are under threat and 260 residents could be moved into private care homes over 18 months if the proposals go ahead.
The Conservative-controlled council, which is trying to cut its spending by a third to £400m a year by 2017, announced the closures, claiming its own homes were too expensive to run.
Only two council-run residential care homes, with specialist dementia facilities, were to remain open in Newton Abbot and Torrington, it previously said.
Ms Beauchamp said she was having to argue on behalf of her mother that Oakwell was the right place for her.
"She's always been a strong woman, but she would never argue like I am here. She deserves it," she said.
A council spokesman said it had been "asked by the court to temporarily suspend the closure programme until this challenge has been resolved".
However, three homes have already closed and about 100 people have been relocated.