One person attends Devon and Cornwall Police crime commissioner event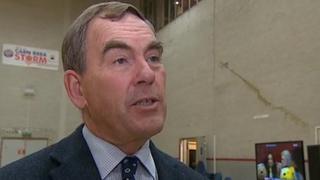 Only one person turned up to a public engagement event held by Devon and Cornwall's police and crime commissioner.
Tony Hogg and senior officers had organised the meeting in Exeter, billing it as a way of holding those at the top to account.
The only person there was Gail Hickman from Bideford, who wanted to complain about anti-social behaviour.
Mr Hogg defended the meeting, saying he wanted people to see him doing his job.
Fed up
He said: "The essence of the police and crime commissioner's role is to hold the chief constable to account against his performance in the police and crime plan.
"And also the essence of this role is transparency in all that I do and I want the public to see that I am doing what they have asked me to do in terms of holding him to account."
Ms Hickman said she attended because she was fed up with the force's response times to its 101 number.
"If you dial 101 the response time can be 17 minutes," she said.
"No-one standing with children and a pram is going to spend 17 minutes on a mobile phone calling about anti-social behaviour."
No-one from the force was immediately available for comment.
Turnout in Devon and Cornwall when Mr Hogg was elected in November 2012 was 15.1% of those eligible to vote.