Roman 20,000 coins hoard 'among largest'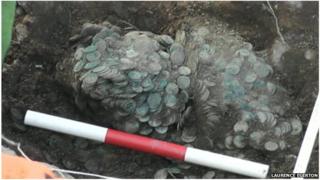 A hoard of 22,000 Roman coins has been unearthed near Seaton in east Devon.
The Seaton Down Hoard is believed to be one of the largest and best preserved 4th Century collections to have been found in Britain.
They were discovered last year by builder Laurence Egerton, 51, using a metal detector.
The Royal Albert Memorial Museum in Exeter is launching an appeal to buy the coins so they can be put on display in the city.
Mr Egerton was searching near the previously excavated site of a Roman villa at Honeyditches in east Devon.
He said: "Initially I found two small coins the size of a thumbnail sitting on top of the ground.
"I decided to dig the earth at that spot and immediately reached some iron ingots which were laid directly on top of the coins.
"The next shovel was full of coins - they just spilled out over the field."
The hoard was declared treasure at an inquest in Devon earlier in September.
'Well preserved'
No value has yet been put on the hoard but it will be eligible to be bought after valuation by the Treasure Valuation Committee, a group of independent experts.
Experts believe the coins, worth about two years' wages for a Roman soldier, were buried in what was then a normal way to put away savings.
County archaeologist Bill Horner said the coins date back to between AD 260 and AD 348 and some bear the images of Emperor Constantine.
He said: "The majority of the coins are so well preserved that they were able to be dated very accurately.
"This is very unusual for Devon because the county, as a whole, has slightly acidic soil which leads to metals corroding.
"The soil in this area is chalky which is why they've survived so well."