Torbay mayor defends sackings in cuts row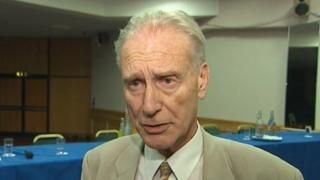 The elected mayor of Torbay says council members should play their part in budget cuts.
Gordon Oliver sacked his deputy and four other senior members of the authority's executive on Tuesday.
At a meeting last week, he faced a rebellion from fellow Conservatives, who voted against him on several issues.
The council's executive includes up to nine councillors chosen by the mayor to help and advise him.
'Feel pain'
Mr Oliver, who was elected in May 2011, said it had been three-and-a-half years since any changes in major council roles had been undertaken and a "review" had been necessary.
He said: "There have been substantial reductions of staff and budget. We all have a part to play in that and elected members should feel a bit of the pain as well."
Those sacked include deputy mayor David Thomas, who said the reason Mr Oliver gave for his dismissal was Mr Thomas's mother-in-law's poor health.
Mr Oliver said he did not talk about "personal conversations with colleagues".
The mayor and his party colleagues have had disagreements over where council cuts and savings should be made.
Mr Thomas has claimed the majority of the Conservative Group were currently "not behind the mayor".
He said he would see "over the coming weeks" if a leadership challenge was something an "overwhelming" number of the group decided they wanted.
But Mr Oliver said disagreements were "inevitable if you have to cut £45m out of your budget".
When asked about a possible leadership challenge, Mr Oliver said: "In politics, anything can happen."