Police find no evidence of criminality at Hannah's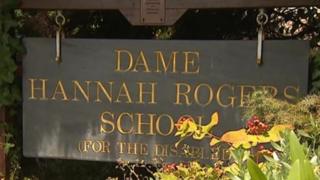 The police investigation into a Devon school which closed after reporting "a safeguarding issue" is over.
Officers have found no evidence of criminality or safeguarding problems at the Dame Hannah Rogers School.
Bronwen Hewitt, chief executive of the school, said she was "very pleased" the investigation was over.
The school, known as Hannah's, caters for profoundly disabled children and young adults.
'Demand growing'
Ofsted, the regulator, closed Hannah's after the school's managing trust reported concerns to the police.
The six-week closure highlighted a lack of alternative services in the region as residents had nowhere else to go.
The school has 24 full-time residents but Ms Hewitt said demand for places was growing.
"This whole event was harrowing for everyone involved and has reinforced the importance of the service we provide," she said.
"Demand is growing all the time and, as we have seen over the last eight weeks, there is very little provision available elsewhere.
"We are delighted to have reopened but we strongly believe that there are lessons to be learnt by everyone involved."