Riverford organic food firm bans hunt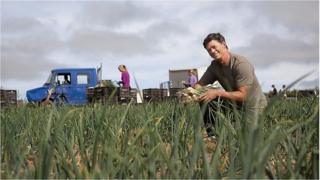 An organic food company has stopped a hunt using land where it grows some of its vegetables following protests.
It said the South Devon Hunt hunt was no longer permitted on land owned by Louise Watson, of the family behind Riverford in Totnes, Devon.
Thousands of people signed an online petition accusing the business of supporting the hunt.
Riverford founder Guy Watson said he and his family had made the decision following "customer feedback".
'Frustrating situation'
Riverford supplies about 47,000 boxes of vegetables to homes around the UK each week.
The petition started after it emerged that the hunt was allowed on sister Louise Watson's farm in Devon which supplies milk to Riverford and where Riverford rents land to grow vegetables.
Mr Watson initially said it was up to his sister what she did on her land.
But Riverford said in a statement: "Since this time the Watsons have been discussing the situation.
"We know we have lost some customers and are very sad about this, but we've looked at our statistics over the past couple of weeks and overall sales have been unaffected."
It added that Guy Watson had never supported hunting or allowed it on his land.
The firm said: "It's been a really difficult - and at times frustrating - situation as lots of inaccuracies have been shared about us as a business despite the fact that we have spent the last 30 years striving to be as ethical as possible."