Plymouth woman uses disguises in fuel theft spree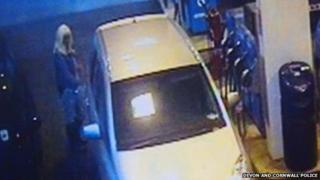 A woman in disguise is being hunted by police, who say she is behind a two-year fuel theft spree.
The suspect donned a variety of different wigs and hats to carry out 29 thefts in Plymouth, say police.
They have now released CCTV images, showing the same silver Vauxhall Zafira car, which they believe has also been disguised using a mixture of cloned number plates.
Detectives say the woman has stolen "thousands of pounds worth of fuel".
In all of the thefts fuel between £55 and £85 was stolen.
Det Con Zara Payne, heading the investigation, said the same car had been reported each time.
She said the woman changed the number plates just before and just after taking the fuel.
"Sometimes she is in long blonde wig, or a short, bob-cut wig, or wearing a beanie hat or hoodie," she said.
"Seeing as this woman appears to go to great lengths to disguise herself, it may well be her impersonating a man.
"What is very clear is over the past two or more years, this woman has stolen thousands of pounds worth of fuel."