Devon beach death: Mother drowned after playing in waves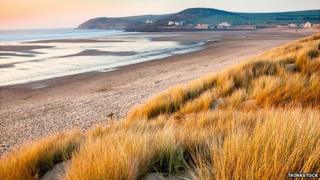 A mother died after being swept out to sea while jumping waves on a family holiday at New Year, an inquest heard.
Rebecca Curtis-Small, 42, from Bristol, was overcome by a rip tide at Croyde Beach, Devon.
The mother-of-one, who was at the beach to celebrate New Year, went into the water in a wetsuit at around 11:00 BST on December 31.
The inquest, in Bideford, heard her cause of death was drowning and hypothermia.
John Tomalin, deputy coroner for Exeter and greater Devon, described her death as a "sad and tragic accident".
'Aggressive resuscitation'
Mrs Curtis-Small was in the water with her sister-in-law Tracy Curtis when they became trapped in a rip current at about 11:20.
The inquest heard Mrs Curtis managed to escape and run back to shore but Mrs Curtis-Small was swept out to sea.
Emergency services attempted to rescue her from "dangerous" sea conditions - including waves of up to 10ft (3m) high.
Coastguards pulled Mrs Curtis-Small from the water at about 13:00 and airlifted her to hospital where she died.
Dr Louisa Mitchell, a consultant at the hospital, told the inquest: "After an hour of aggressive resuscitation and body warming with no signs of life or a rise in core temperature I had to decide with my team that ongoing resuscitation was going to be futile."
Mark Curtis, the brother of Mrs Curtis-Small, said he did not spot warning signs about rip currents at the privately-owned beach, which was not patrolled by lifeguards during their visit.
The coroner said he would recommend warning signs to be assessed and potentially changed to warn others of the dangers.