Plymouth University's Wendy Purcell spent £15,000 on rail fares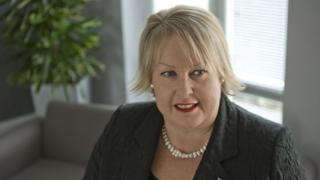 Plymouth University's chief executive took a first-class rail journey on average once every eight days over the past three years, costing nearly £15,000, it has been revealed.
Vice chancellor Wendy Purcell took 124 single trips and 13 returns, a freedom of information request has shown.
The university said the journeys were all for official business.
Prof Purcell is currently suspended while complaints about her conduct are investigated.
'Excessive'
Figures show she travelled from Paris to London on the Eurostar, costing £311.50, and between Plymouth and London Paddington on several occasions, costing £242.00 for a return trip.
Nick Varney, regional official with the University and College Union, said: "Whilst we understand that from time to time there will be a need to travel by train, first-class journeys every eight days for three years does seem excessive, particularly at a time when the university was making staff redundant because of the need to make savings."
The university said senior managers were allowed to travel first class.
The establishment has been in turmoil after a boardroom feud left it without Prof Purcell and its chairman William Taylor - its two most senior figures.
Mr Taylor resigned following claims of sexual harassment, which he has "categorically" denied.
On Tuesday, the university announced Plymouth Argyle boss and businessman James Brent was its new chairman of governors.
He will take up his position on 3 November.
---
Timeline of events
---