Appeal in memory of cancer teenager Sam Allen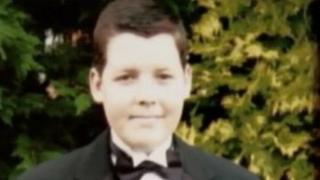 A couple whose teenage son died from bone cancer have started an appeal to help terminally ill children.
Sam Allen, 18, from Hemyock, Devon, died on 11 June after nearly four years after being diagnosed.
Now his parents are supporting a charity, the Newlife Foundation, that provided him with a mobility scooter.
His mother Nicky said it would be a fitting legacy to "popular, generous and brave" Sam.
The fundraising campaign, called Sam's Legacy, will help other children in Devon in the same situation as Sam.
Grin 'worth millions'
Sam, who studied childcare at Somerset College of Art and Technology, was first diagnosed with the cancer when he was 14.
After chemotherapy treatment failed, he underwent an operation to have his left leg amputated above the knee.
He remained cancer free until March 2012 when a routine scan found a tumour on his lung.
Mrs Allen said: "The scooter was absolutely amazing. Once we applied, it was with us within a few days.
"Sam was using it within an hour of its arrival and the grin on his face was worth millions to us.
"The main thing was that he was able to drive over to see his friends and move about the shops."
She added: "All the way through his illness he was extremely positive, even more so when he knew there was no more that could be done, which is amazing."
Carrick Brown of Newlife Foundation, said: "It has been lovely to hear of the positive difference made to Sam as a result of providing the powered scooter."