Alan Henning: Plymouth taxi drivers' remembrance convoy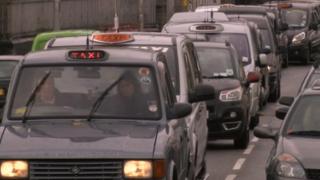 More than 150 cabbies in Plymouth have taken part in a drive in memory of murdered aid worker Alan Henning.
The 47-year-old taxi driver from Salford was killed in a video released by IS militants.
The taxis travelled in convoy and held a multi-faith service to remember the father-of-two.
Organiser Ken Bennett said: "The two hours of doing what we're doing today is nothing to a man losing his life doing what he could to help humanity."
He added: "We were very shocked to hear of the sudden murder of Alan Henning and we thought as a gesture of respect to his family we would drive from the outskirts of Plymouth to the city centre and have a short service of remembrance.
"Taxi drivers stick together. It doesn't matter what it is - we will stick together."