Devon MP Geoffrey Cox in call to end ban on ray fishing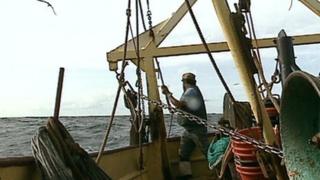 North Devon's fishing industry is in danger of collapse after a new government ban on landing ray fish, according to a local MP.
Torridge MP Geoffrey Cox has called on the Department for Environment, Food and Rural Affairs (Defra) to exclude the Bristol Channel from the ban.
He said ray stocks were plentiful in the channel because a no-take zone was imposed a number of years ago.
A Defra spokesman said it was important to strike the right balance.
He said there needs to be a "balance between supporting fisheries and protecting the marine environment."
"Quotas ensure the sustainability of stocks which supports the long term future of the industry - overfishing also results in penalties from the EU."
The nationwide ban came into force on 12 October in response to the UK as a whole having gone over its quota for landing ray.
'Kill the industry'
Mr Cox said the ban would put dozens of jobs at risk in the area and that a blanket ban would "kill off the already struggling industry".
He said a scheme was already in place among North Devon fisherman to ensure stocks stay in a good state.
Mr Cox said: "In a situation where the country's fishing industry as a whole is over-quota, there is an obvious need for concern and action to protect our fish stocks.
"Unfortunately however, this indiscriminate ban on landing ray is a serious blow to the fishing industry in Torridge which relies heavily on its ray quota for survival.
"I feel it is therefore important that local realities are taken into account and an application of local discretion is made in cases such as this."