Forged will accused 'victim of framing plot'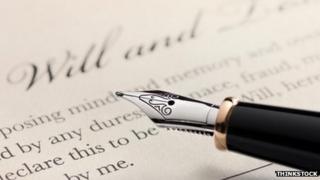 A woman accused of forging the will of her partner to inherit his £180,000 estate may be the victim of a plot to frame her, a court has heard.
Victoria Kendrew lived with ex-police officer Peter Farquharson for 15 months before he died in 2008. A fake will was found in a jacket after his death.
Ms Kendrew denies fraud, conspiracy to create a false document and conspiracy to pervert the course of justice.
The trial, at Exeter Crown Court, continues.
'Witnesses cajoled'
Retired policeman Mr Farquharson committed suicide by hanging himself at 43-year-old Ms Kendrew's home in March 2008.
The court heard he had not made a will and his estranged wife stood to inherit his entire estate until the forgery came to light weeks before probate - obtaining authority to administer the estate - was due to be finalised.
Prosecutors allege Ms Kendrew forged the will because she wanted to inherit a fishing boat and a house in Teignmouth.
Defending, barrister Sean Brunton, likened it to a movie in which the hero was framed and had to prove their innocence.
He said: "She... had no reason to do it."
Ms Kendrew said she found the document - supposedly made two months before Mr Farquharson's suicide - a year after his death.
She said she could not explain how it came into being and denied cajoling two men into witnessing to it.
Carl Jensen, 49, and Kevin Dodd, 57, both from Guildford, admit charges of conspiracy to create a false document, saying they were pressurised into it.
Ms Kendrew said she stood to make nothing by finding the will because she was suing Mr Farquharson's solicitors for negligence in not preparing a new will during his divorce proceedings.
She also said she expected she would enjoy no financial advantage because of the high cost of paying off debts and repairing the house and boat, even after any damages awarded and inheritance, the court heard.