Devon shed thieves leave contents behind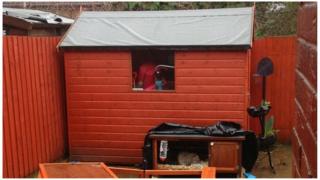 Thieves stole a wooden shed from a home but left its contents in the garden.
They fled with the £600 shed measuring 6ft (1.8m) by 8ft (2.4m) from the back garden of an unoccupied house in Newton Abbot, Devon.
Acting Det Sgt Shane Robertson of Devon and Cornwall Police described it as a "very unusual crime".
Homeowner Nikki Brighton, who is selling the house, said: "I am pretty disgusted because it is quite a new shed."
'Brazen'
She said she received a call from the estate agents saying the shed had gone.
"The stuff I had not taken with me, some shelves and bits and bobs including my daughter's Space Hopper, were out in the garden," Ms Brighton said.
"It was a bit of a mess."
She thinks the offenders must have dismantled the shed before taking it away.
"The thieves were brazen," she said.
"I am really hopeful that someone knows where it has gone."
Police said the shed was snatched some time between Friday 17 October and Wednesday.