Torbay Conservatives choose David Thomas as new leader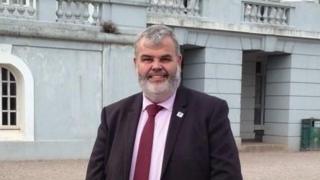 A new leader of Torbay's Conservative group has been chosen.
Councillor David Thomas was selected for the role earlier. He replaces Gordon Oliver, who was deselected last week.
Mr Thomas was sacked in September from the role of deputy mayor by Mr Oliver, who is also the elected mayor of Torbay Council.
Mr Oliver was deselected after receiving a vote of no-confidence as leader of Torbay Council by colleagues.
After the vote, Mr Oliver told the BBC he intended to stay on as mayor despite losing.
He said after his removal as group head he would consider his role as mayor, but said he was "unclear what had gone wrong".
In September, Mr Oliver sacked his deputy and four other senior members of the unitary authority's executive.
He also sparked anger by transferring more than £300,000 earmarked for bringing empty homes back into use, to fund a project to improve the harbour.
Critics accused him of "putting promenades before people".