NHS Devon steps up action on sepsis infection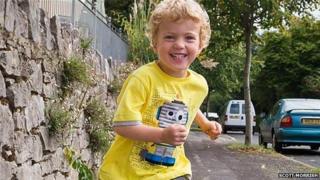 NHS bosses have issued new guidance to health professionals in Devon alerting them to the signs of a deadly blood infection.
The countywide pilot campaign follows the death of three-year-old Sam Morrish from Sepsis in 2010.
Sam, from Newton Abbot, died from the treatable condition because four health service organisations made mistakes, a watchdog said.
The guidance is being sent to front-line workers including GPs.
The Parliamentary Health Service Ombudsman (PHSO) said Sam died of severe sepsis after a "catalogue of errors".
Susan Bracefield of NHS England said the guidance was like a "route map" for professionals to help them "get children the right treatment at the right time".
She said: "The underlying principle is for better recognition of sepsis in children so we have an agreed set of symptoms."
Facts about sepsis
Sepsis is a more common reason for hospital admission than heart attack - and has a higher mortality
The most common causes of severe sepsis are pneumonia, bowel perforation, urinary infection and severe skin infections
The most common signs of sepsis are a high fever, violent shivering, fainting, cold and pale hands, rapid breathing, confusion or delirium
37,000 people are estimated to die of sepsis each year in the UK
From the time sepsis first takes hold, healthcare workers have just hours to deliver the right care
Source: UK Sepsis Trust
A leaflet is also being given to parents with advice on what symptoms of sepsis to look for.
The campaign is called Sepsis Assessment and Management (SAM), a deliberate reminder of the child whose death prompted the change in policy.
The guidance is being evaluated by Plymouth University over the next six months and could be rolled out around the country.
Sam's mother Sue said: "I often ask myself how something is so deadly but I had never heard of it.
"I feel that if I had understood the symptoms, if I had seen the leaflet, we would have got treatment for Sam much quicker."