Plymouth City Council faces £2m claim over road plans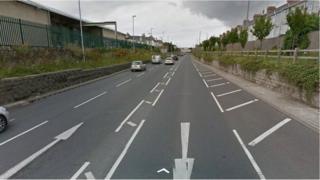 A city council is facing a claim by contractors of more than £2m over allegations of inaccurate designs for a multi-million-pound road scheme.
Plymouth City Council said the Gdynia Way costs were subject to a claim from Amey over "potential inaccuracies in design works supplied by the council".
The final costs of the scheme, initially put at £19m, are unknown.
The council blamed a "large number" of sewerage pipes and power supplies which had not been known about.
Gdynia Way, the main route into Plymouth from the east, is part of the so-called East End Transport Scheme, one of the biggest road schemes carried out by the council.
'Engineering complexity'
It is intended to cut traffic jams and ease public transport on Embankment Road, another main route into the city.
But three years after the road was reopened, the council is still involved in a wrangle with Amey.
It said in its statement of accounts: "The potential liability could be in excess of £2.2m and the matter has been referred for specialist legal advice."
The council said in a statement: "The costs of schemes of this scale and engineering complexity can rise due to unforeseen circumstances and changes between the projected and final costs of 10% are not unusual.
"In this case there were a large number of services, including sewerage and power supplies and other obstructions, some of which were not known and some changes to the original plans had to be made to take account of these."
It said the costs were being negotiated with the contractors.
"However, it is likely that the additional costs will be significantly less than originally projected and reported in the statement of accounts."
Amey declined to comment.