Exeter legal highs shop Wicked closed by police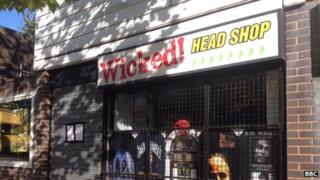 Police have closed a legal highs shop after complaints about anti-social behaviour by customers.
The Wicked shop in South Street, Exeter, will be closed for 48 hours, said the Devon and Cornwall force.
It is thought to be the first time anti-social behaviour laws have been applied to a legal highs shop in England.
The police application to close the shop for up to six months was adjourned at Exeter Magistrates' Court.
The police were granted an extension to the temporary closure and a formal closure application will be made on 6 November.
A police spokesman said it followed "complaints over a sustained period regarding anti-social behaviour, nuisance and disorder by clients".