Devon NHS Care Commissioning Group faces £430m deficit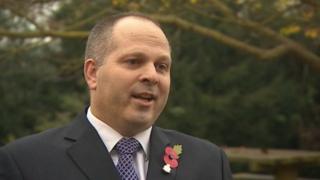 The biggest Care Commissioning Group (CCG) in England is facing a £430m deficit by 2019, it has revealed.
The Northern, Eastern and Western Devon CCG buys NHS services for an area of 900,000 people, covering hospitals, ambulances and mental health services.
Despite cost-saving measures of £239m, under current plans the group would still be short by £191m in five years.
Mark Marriott, from the group, said savings would be made as a whole system rather than individual organisations.
The group revealed at a meeting on Wednesday night that it had identified £80m worth of savings and has plans to save up to £159m more.
However, the group would still be £191m short, under the current plan.
'Greater demand'
Mr Marriott said the NHS was seeing a "greater demand" for services.
He said although it is five years away "we will start from now to embrace the challenge".
"We have to work as a whole system rather than a group of individual health organisations to resolve the issue and for the five-year strategy to work," he said.
To make the savings, the group is looking at prescribed drugs, providing more healthcare in the community and cutting routine operations for people who smoke or who are very overweight.
On Thursday, the Academy of Medical Royal Colleges said there could be potential savings of up to £2bn across the NHS and that doctors had an "ethical duty" to help prevent waste.
Its report highlighted examples including better use of medication, tests, hospital beds and operating theatres.