Foodbank-use for south west children 'quadruples since 2011'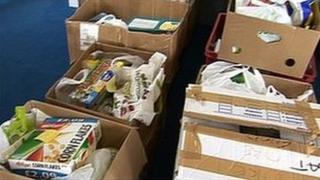 The number of children being fed through foodbanks in the south west of England has almost quadrupled in the past three years.
The figures have risen from an average of just over 430 children a month to more than 1,600 children a month.
The statistics come from the Trussell Trust, a charity which runs 28 foodbanks across the region.
This year an All Party Parliamentary Group launched an enquiry into foodbank usage.
The group, chaired by the Bishop of Truro the Rt Rev Tim Thornton and the Rt Hon Frank Field MP, was set up in November 2013 to better understand the growing use of food banks and to consider how hunger in the UK can be eliminated.
Bishop Thornton, said: "Our terms of reference are to say now what are the causes and what are the reasons that foodbanks are sadly becoming part of the fabric of our society."
Ian Bruce, chair of Cornwall primary heads association, said: "There is certainly a problem - widely across Cornwall."
He said for parents not in work or receiving low wages it is becoming difficult creating greater demand for foodbanks.
Lynne Tonkins, a single mother from Cornwall, said going to a foodbank was a last resort.
"I felt as any mum would feel, ashamed that they can't support their children in the ways necessary and we're talking about the basic need of food alone and I found that very difficult," she said.