Stephen Crook murder: Four guilty of killing Exeter drug dealer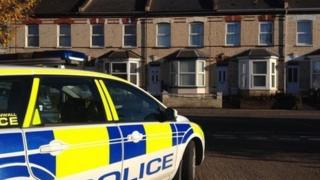 Four members of an armed gang have been found guilty of the killing of a drug dealer who was stabbed to death during a violent robbery in his Exeter home.
Stephen Crook was stabbed 10 times, Exeter Crown Court heard during the eight-week trial.
One member of the group was found guilty of murder and robbery, with three other members convicted of manslaughter and robbery.
The jury is still considering its verdict on the fifth defendant.
'£20,000 of heroin or cash'
The court heard Mr Crook was a drug dealer who was attacked by the men in November 2013 because they believed he had £20,000 worth of heroin or cash at his flat in Alphington Road.
Mr Crook, aged 43, died from loss of blood after suffering multiple stab wounds in the attack in which he was forced through his flat from the back door to the bedroom, where he kept his money.
He was found dying by his girlfriend Karlina Beaumont when she returned to the flat from buying a Chinese takeaway.
Ryan Singleton, aged 26, of Howcotte Green, Canley, Coventry, was found guilty of murder and robbery.
Steven Webster, aged 40, of East Street, Okehampton, Darren Twigger, aged 40, of John Rous Avenue, Canley, and Anthony Martin, aged 22, of Gerard Avenue, Canley, were found guilty of manslaughter and robbery.
The four men will all be sentenced after defence counsel make pleas of mitigation.
Jurors are still considering their verdict on a fifth defendant, Bradley Richardson, of Prior Deram Walk, Canley, who was aged 17 at the time of the robbery, and claimed he had not gone into the flat.
All the defendants denied knowing that violence was going to be used and said it was a drug deal that went wrong and blamed each other for inflicting the fatal injuries.