Former Devon teacher denies pupil sex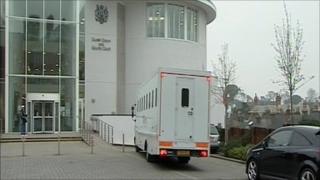 A former teacher has denied having sex with two 15-year-old female pupils in a school gym store in the 1990s.
Paul Cole, 45, of Franklyn Drive, Exeter, is on trial at Exeter Crown Court.
He said the two alleged victims and two older former pupils all invented allegations of sexual liaisons.
They say the incidents took place when Mr Cole was a physical education teacher at a North Devon school in the mid 1990s.
On Monday, Mr Cole told the jury he was aware some girls had a crush on him but he denied abusing his position.
He admitted kissing one girl after she had left school and was over 16 but said all other allegations were invented.
Mr Cole, who now works as an electrician, denies seven counts of indecent assault on two girls in the 1990s.
They say at the time he was a fit man in his 20s who girls were attracted to because they thought he looked like Take That star Gary Barlow.
Mr Cole is only charged with offences against the 15 year olds because at the time it was legal for a teacher to engage in sex acts with students once they turned 16.
Such behaviour has since been made an offence.
Cole said the timetable and layout of the sports hall at the North Devon school meant many of the allegations could not be true.
Asked by Mary McCarthy, prosecuting, if all the girls were telling lies about him, he replied: "Yes."
The trial continues.