Ex PE teacher jailed for pupil sex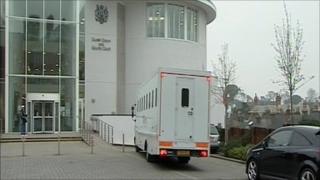 A former PE teacher has been jailed for seven counts of having sex with two underage pupils at a Devon school in the 1990s.
Paul Cole, 45, was described as a good-looking young sportsman who looked like Take That star Gary Barlow when he took advantage of the girls, aged 14 and 15.
Exeter Crown Court heard he kissed and fondled them before having sex on or against a gym horse in a store room.
Cole, of Franklyn Drive, Exeter, was jailed for six years.
The jury heard he had sex with two other girls outside school, but could not be prosecuted because they were over 16, meaning it was legal at the time.
Judge Francis Gilbert told Cole he had committed a serious breach of trust and exploited the girls' obsession with him.
"You were convicted on what can only be described as overwhelming evidence of serious sexual offences against two girls," he said.
"The fact that both girls were besotted with you is no excuse. If anything, it is an aggravating feature."
During the two-week trial jurors heard the two girls, now in their 30s and with children of their own, had crushes on Cole.
The girls did not report the abuse at the time, but inquiries began in 2011 after one victim became concerned Cole may still have access to young people.
He denied having any contact with any of the underage girls while they were students, but said he had kissed one of the older girls after she left school.
Fiona Elder, defending, said Cole should be given credit for all the good work he did during his 20-year teaching career.