Paignton family finds plumber who stole £15,000 rings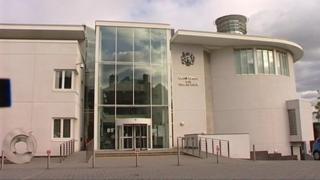 A plumber who stole rings worth £15,000 from a pensioner was caught after the victim's family tracked him down.
Christopher Kneil, of Paignton, Devon stole two rings from Hilary O'Neill when he was meant to be working.
Kneil was arrested after Mrs O'Neill's family found the rings through the online auction site eBay and a jeweller in Torbay, Exeter Crown Court heard.
He admitted two thefts and was given an 18-month community order and 12-month supervision order.
The rings included an engagement ring.
'Everybody's nightmare'
Recorder Frank Abbott told Kneil: "This was an unpleasant offence. It was mean. It was a particularly nasty thing to do when you had been trusted to work in the victim's home.
"It is everybody's nightmare when they have someone in to fix something that they have to trust them not to go into private areas such as a bedroom and steal jewellery of great sentimental value.
"You sold it for a pittance to jewellers. The money you got out of it was nowhere near the true value of the items. Mercifully they were recovered, thanks to the remarkably hard work of the loser's family."
Beth Heaton, prosecuting, said Kneil was working at Mrs O'Neill's home in South Devon in May when he took the rings from a bedroom drawer.
He sold one on eBay for £129 and another to a local jeweller for £95.
The court heard the victim was very upset because they were worth £15,000 and had great sentimental value, one being given to her as an engagement ring 40 years earlier.
Martin Salloway, defending, said Kneil was under financial pressure at the time and has a history of drug abuse.